Dave booked our flights to Europe on a life's supply of Aeroplan points long before I realized that my whiplash injury was going to stick around that long. My race schedule for the year included two 70.3's in 8 days in Europe. I had never raced outside North America, hadn't done many races outside BC and had never raced two half-ironmans less than 3 weeks apart. Even though I was far from top shape due to the limits that the neck injury had imposed on my training over the previous 4 months, I decided to take on the challenge, because a) my last race didn't make things any worse and b) the many many health care professionals treating me were okay with it.
My first race was on the island of Mallorca, Spain (i.e. cycling paradise). I think that is how I convinced Dave to come with me to Europe and he subsequently convinced our friend Noah Bloom to come to Spain too. They were not disappointed. I will let the pics speak for themselves: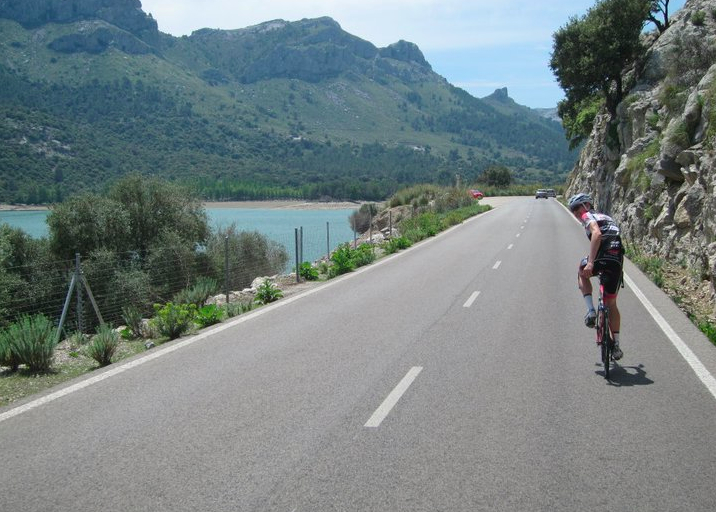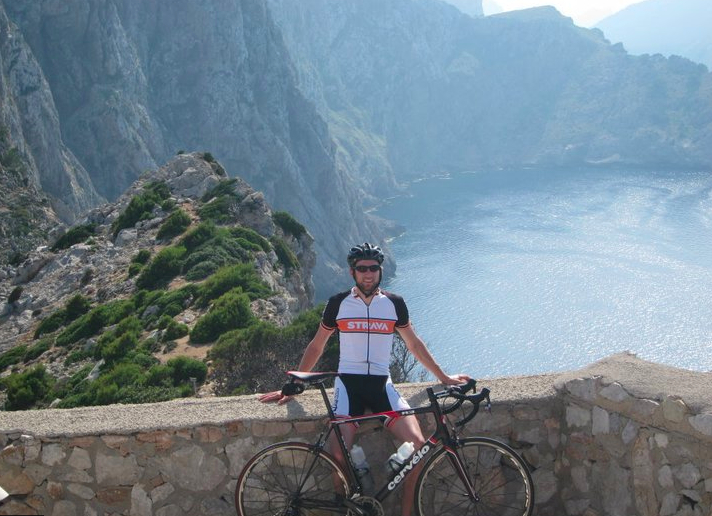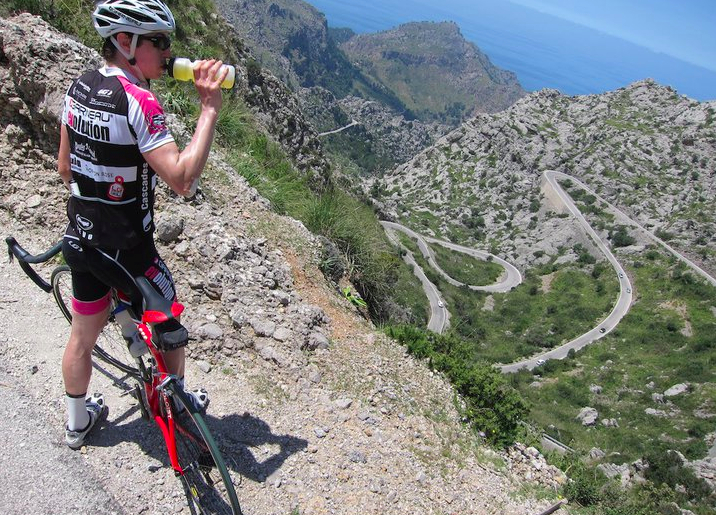 So while they were off cycling for 6 hours in paradise with intermittent ice cream and coke (a cola) breaks, I was sitting in the hotel playing angry birds while I "tapered." I got to Spain 3 days before the race, so my longest training ride was an hour and I didn't get anywhere close to the awesome climbs Dave and Noah were always gushing about. I'd do my ~1 hr-ish of training everyday, get physio and sit and wait for the boys to get back so we could go to dinner…can't go hang out at the beach, can't go shopping or walking around all day…all in the name of tapering. Super boring, but hey I was there to race right?
Thanks to the analgesic trigger point injections I got in my back and neck before I left, the physio I saw in Spain, the neck tape jobs and the tapering I was feeling pretty good leading into race day.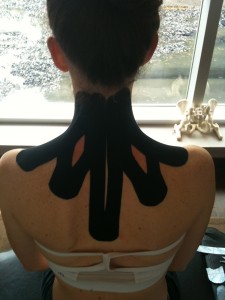 The swim was a straight out and back course in beautiful calm water. I got onto some toes right away and swam hard to stay in the group. My group even ended up catching another group in the last ¼ of the swim. When I stood up out of the water, I was exhausted, but my watch said 27:50 for the 1.9 km course, a personal best of 2 minutes over my best time last year! I had been working really hard on my swim since last July when I started swimming with the Canadian Dolphins masters/tri group. Not being able to swim very much or very hard since the car accident was probably my biggest disappointment. In December, right before the accident I had a huge breakthrough where I took 5 seconds per 100 m off my regular swim pace. I was actually starting to enjoy swimming for the first time. So it was very encouraging to know that I hadn't lost it completely.
The bike course was also beautiful and included a ~10 km climb with a long descent with lots of 180 degree switchbacks. Last summer I was second overall (to a cat 1 cyclist) at both the Cypress and Seymour hill climbs in Vancouver, so I expected to kick triathlete butt on this climb. I didn't…I only passed one person. I could really feel the lack of fitness in my legs on the way up and then the descent killed my neck on the way down.
The last hour of the bike I was in a world of pain that was heightened by the increasing heat. All I could think about was how badly I wanted to get off my bike so my neck would stop hurting. I was passing another pro back and forth during this time as I struggled to not let the nagging pain affect my power. But, as soon as our feet hit the pavement, the pain lessoned and I dropped her immediately. When I passed her in transition she tried to accelerate to keep up to me but then never saw her again. I'll give you some insight into my competitive mindset – I absolutely LOVE the feeling of passing someone on the run knowing they can do nothing about it. I have yet to have a female run with me in a triathlon or keep up to me when I pass them (although I should point out that I have been passed (or should I say blown by) twice by a female at end of a triathlon, once by a 19-time Canadian champion and 2-time world champ silver medallist and once by an Olympic runner). When I improve my swim and bike a bit more so I come off the bike with the better runners, it will be scary, but exciting for me the first time someone challenges me.
My run wasn't quite as fast as in New Orleans as it was significantly hotter and half of each 5 km lap was on cobbles which was really slowing everyone down. I finished 9th, only 20 seconds behind 7th place but the heat prevented me from caring at the end of the race ;). I was happy to get an IV in the med tent after the race because I learned at Austin 70.3 last year that it REALLY helps recovery! A day later I felt like I didn't even race.

I rented a car a few days after the race so that I could see some of Mallorca, because although the race was over, I was now in "recovery" mode and still couldn't do any long rides!
Jealous much? You should really go to Mallorca.
Dave and I flew to Austria a few days later to race Austria 70.3 in St. Polten, Austria. We had some interesting experiences in this German-speaking, strudel-loving country.
Dave and I could get by in Spain with our minimal Spanish but knew ZERO German. We learned to count to 10 and how to say "I don't' speak German" and "do you speak English?" on the way to Austria and that was it. Knowing more German definitely would've been useful in several instances. The funniest of which, was when I was at the race course doing a run workout. I found a really nice trail to run on and I came to a gate on the trail that was open but had a German sign on it. Since it was open I just went through and kept running down the trail. Within about 2 minutes I came across a completely naked old Austria woman with no tan lines. It was shocking, but I kept running. A minute later I ran by a grassy area FILLED with old naked Austrians! I don't think it sunk in for a minute or two until I came across another naked couple on the path and realized it was a nudist area and booted it out of there!
Leading up to the race I was feeling pretty recovered and my neck wasn't feeling too bad. I was excited to see how I could do with back-to-back halfs for the first time. The swim went well, I was in a big group again of about 6 female pros. Halfway through the swim we had to run 300m or so to another lake to do the rest of the swim. We all ran pretty hard to the next lake and I think it tired out the less strong runners, which was an advantage for me and I dropped half the group on the second half of the swim.
The first 20 km of the bike was on the autobahn and it was flat, smooth and FAST! I was averaging almost 40 kph. Unfortunately, this race my neck started hurting right off the bat. My legs felt good though. I didn't know how I was going to be able to deal with the nagging neck pain for the whole 90 km rather than just the last hour. I was riding back and forth with a couple other pros. After about halfway, as a coping mechanism, I started purposely letting another pro pass me so I could sit upright and rest my neck. I could keep up to her sitting upright, outside of her draft zone pretty easily. Then after a rest, I would get back into my aerobars and pass her back and keep hammering.
This is where the drama begins. At about 60 km in, I went to pass her again and just when I got on her left to pass she sat upright and went to turn left, but just before we crunched carbon, she swerved right and I swerved left, still in my aerobars going about 40 kph. The next thing I remember I'm in an ambulance.
I'm not really sure who/what the culprit or cause was exactly but I have a few ideas. The European drafting rules only give you 15 seconds to make a pass from 10+ m back (compared to 25 or 30 seconds in Canada and the US), so I had to accelerate pretty hard to pass someone going the same speed as me. In doing so, I had my eyes on the person I was passing, my neck injury doesn't allow me to look very far up the road from my aerobars but normally this isn't an issue because I wouldn't need to see further than the person I'm going to pass. But because I was passing so fast I think that I either didn't see the volunteer telling us to turn or he/she did not signal for us to turn with enough notice for my speed and acceleration (which actually happened a lot in Spain too). The woman I was passing also didn't check before she turned, and must've just heard my Zipp 808s coming last minute. I'm undecided as to whether you are expected to check before you make a turn in a closed-course triathlon or not though. Either way, it was a really frustrating experience and I am convinced it never would have happened if it wasn't for my neck injury. For one thing, I would be a lot fitter and would've dropped this woman, for another I would have full range and ability in my neck to look far down the road.
I spent the night in the hospital because I had a concussion, but other than that, some stitches and road rash, I was okay. Luckily my doctor spoke English but most other people at the hospital did not, so some other language barrier experiences were had. Giving them my address to send the bill was a 15 minute affair, even when I had produced my drivers licence that they could just copy from. I went to pick up my bike, shoes, helmet and Oakleys the next day after I got out of the hospital. I had only had my Cervelo P3 for about a month and based on how bad my face looked, I feared the worst for my poor bike. Much to my surprise nothing was damaged! I took the brunt of the crash on my face apparently.

After the results were posted I saw that the woman who I almost crashed into came 7th and a woman I had dropped earlier on the bike came 6th. This just made me feel even worse as I missed out a on a good result and some prize money as the $50,000 prize purse went 8 deep.
We ended our Eurotrip with a brief amount of time being tourists, while I tried to hide the left side of my face. I'll leave you with some pics of Innsbruck, Austria.